The Coronavirus outbreak has got people very aware of what they touch, including currency. We are once again seeing many people turn to digital payments, even if it's not at the same level as the time of demonetisation. UPI has definitely become a popular method of transferring money and making payments, and Realme is capitalizing on the trend. Madhav Sheth, CEO Realme has tweeted out revealing the first successful transaction using PaySa, Realme's homegrown financial services platform. The app is currently available for download on Android.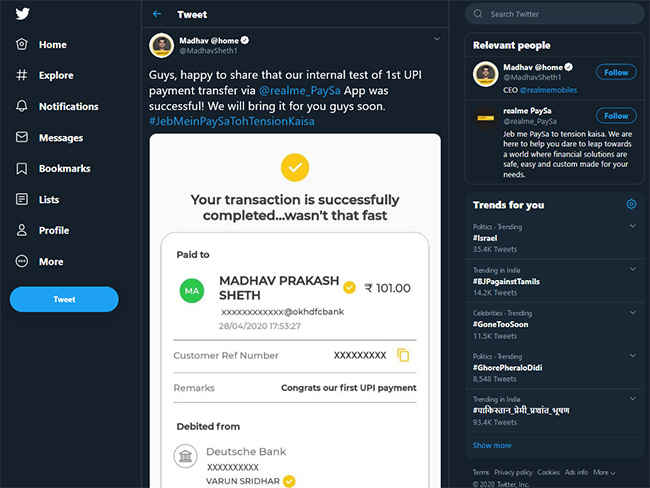 The tweet is comprised of a screenshot showing a transaction from Madhav Sheth to Varun Sridhar for an amount of Rs 101, marking the first transaction using the app. Realme had launched PaySa alongside the Realme X2 (Review) in December 2019 as a financial platform to offer personal loans between Rs 8000 and Rs 1 lakh. The app offered loans within minutes to users of the platform. Today, they have also completed their first UPI transaction, signalling that the app is going to receive the new functionality soon. PaySa will utilize the Universal Payments Interface or UPI to facilitate transactions between users, but that's not all. In order to make the app competitive in an already overcrowded space, PaySa also offers provides instant credit reports, instant loans and even access to Mutual Funds. Users of PaySa can also avail mobile phone insurance through the app.
As of today, there are over a hundred apps that work with UPI, some of the most notable being PayTM, Google Pay, PhonePe and many many more. Needless to say, it's a very crowded space, but since Realme isn't launching a new UPI app, they don't have to struggle with conversions. Given that PaySa has been out in the open since December, it just means that users will get to enjoy the UPI functionality without having to do anything extra. As of now, there's no official word on when the UPI functionality will roll out to the PaySa app.