Despite its less than stellar reviews, FAU-G aka Fearless And United Guards, has managed to garner over 50 lakh installs within two days of launch. As such, the game is now the top free app on the Google Play Store, beating the likes of Garena Free Fire, Call of Duty: Mobile and even Candy Crush Saga.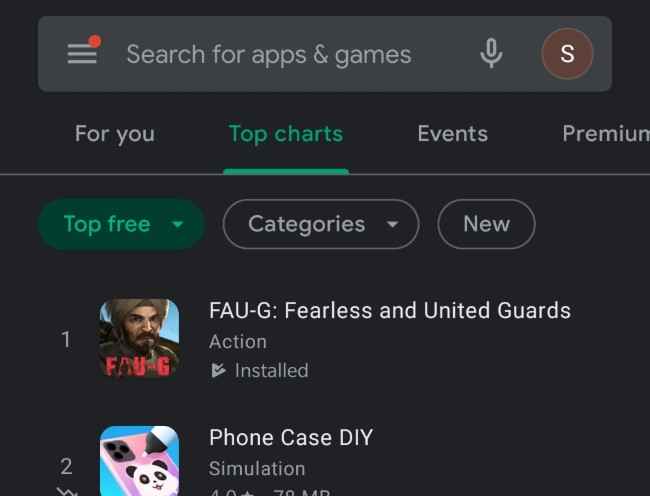 The game was launched on January 26 and had over 10 lakh downloads within a day. This was down to the sheer hype that the developer, nCore Games, managed to build around it. Before launch, FAU-G was touted as a 'Made in India' alternative to games released by Tencent, Activision, etc. The game added a dash of patriotism by promising to tell stories of Indian soldiers on the frontlines. The game also included a level based on the Galwan Valley clash that occurred in 2020. Thanks to this hype, the game reportedly had over 40 million pre-registrations before launch.
FAU-G is the top free game on the Google Play Store
FAU-G currently has a rating of 3.5 starts with a total of 3,81,165 reviews. This is a decrease from the 3.9 stars that the game had yesterday. The game only offers the Galwan Valley mission to play at launch. The multiplayer-focused 5v5 Team Deathmatch and the Free For All mode will be added later. It should also be noted that the game only offers melee combat, and it is not yet known if firearms will be added in the future.
FAU-G also offers in-app purchases that range from Rs 19, all the way to Rs 2,999. This gives players Tokens, which is the game's version of premium currency. These Tokens can be used to purchase weapons, and player characters. Players can also earn some Tokens for free by watching advertisements.
You can check out our review of FAU-G here.