Want to modernise your banking loan application?
Build an application that analyses credit risk with #IBMCloud Pak for Data on #RedHat #OpenShift
Click here to know more
Advertisements
iFFALCON has launched the K61 Android TV in India and it will be available on Flipkart. The TV is available in three screen sizes – 43-inch, 50-inch and 55-inch. In a press release, iFFALCON says the TV starts at Rs 24,999 however, on Flipkart, the 43-inch variant of the TV is priced at Rs 26,999. Changing the pin code from Noida (201304) to Pune for example (411001) the price of the TV jumps to Rs 27,290. This does make us wonder why the price of the TV is different in different pin codes.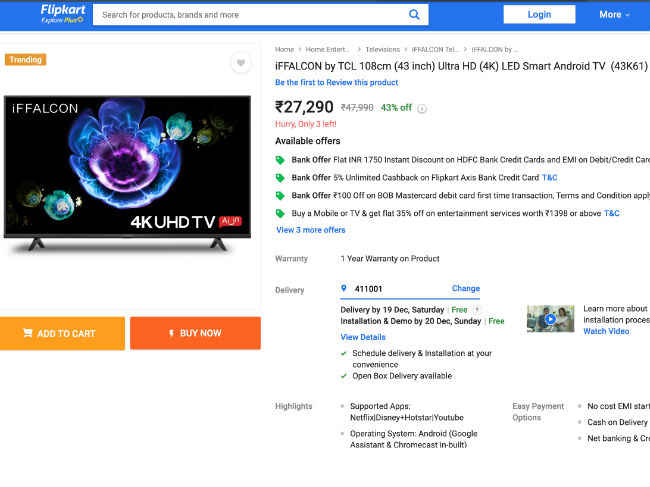 iFFALCON K61 features and specifications
As mentioned above, the TV is available in three screen sizes – 43, 50 and 55-inches. All of them run on the Android TV platform and bring with them access to the Google Play Store. With the Play Store, you have access to all popular streaming services such as Netflix, Prime Video, Disney+ Hotstar and more. It also comes with a voice-enabled remote control that brings up the Google Assistant.
Speaking of connectivity, the 43-inch TV has 2 HDMI ports and 1 USB port while the 50 and 55-inch variant bring with them 3 HDMI and 2 USB ports respectively. The TVs support 2.4GHz Wi-Fi only. The brightness listed on the Flipkart page of the TV is 280 nits for the 43-inch TV and 290 nits for the 50 and 55-inch variant which is a little low when you see that other budget TVs are offering up to 500-nits of brightness. All three sizes have DLED backlighting.
All three TV panels have a refresh rate of 60Hz and have the Amlogic 64bit A55 x 4 900 MHz – 1.1 GHz CPU and Mali 470×3 600 MHz – 800 MHz GPU. The TVs come with 2GB RAM and 16GB storage. All the TVs boast of 24W of sound output.
iFFALCON K61 pricing and availability
The iFFALCON K61 available in 43, 50 and 55-inch screen sizes is available on Flipkart. At the pin code of 201301, the 43-inch variant of the TV is priced at Rs 26,999 and the 50-inch is priced at Rs 33,999. The 55-inch variant is labelled as coming soon with a price tag of Rs 70,990.