In a bid to bring new subscribers to its network, telecom operator Reliance Jio has today announced the new "JioPhone 2021 Offer" which will be available from March 1. The new offer is an extension of Jio's plans to upgrade millions of 2G users in India to the more advanced 4G baseband that the company's network operates on. Jio claims to have successfully upgraded more than 100 million users to its 4G platform to date. However, it now plans to upgrade three times this number to its 4G network with the help of its JioPhone 2021 offer.
Speaking about this new offer, Akash Ambani, Director, Reliance Jio, commented, "There are still 300 million subscribers in India who remain trapped in the 2G era, unable to access basic features of the internet, at a time, when the world stands at the cusp of a 5G revolution. Since the last 4 years, Jio has democratised the internet and passed on the benefits of technology to every Indian. Technology no longer remains a privilege of a select few. The New JioPhone 2021 offer is another step in that direction. At Jio, we have and will continue to take bold steps to eradicate this digital divide and welcome every Indian to join this movement."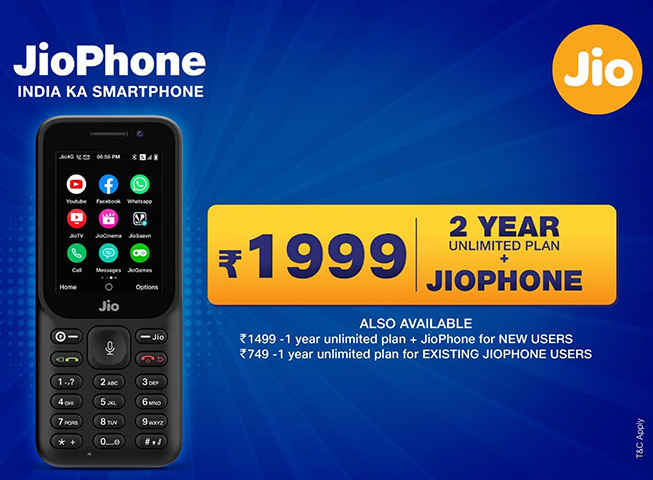 What is the new JioPhone 2021 offer?
Under the new JioPhone 2021 offer, the telecom operator is offering a JioPhone with 24 months of unlimited service at a one-time price of Rs 1,999. As part of the offer, new subscribers will be extended a number of benefits, including unlimited voice calls and 2GB high-speed data every day for a period of two years. In fact, the company is pegging this offer as one where the subscriber will not have to get a recharge for the first two years. The only cost associated will be the Rs 1,999 initial payment for the device.
Interestingly, Reliance Jio is also offering a one-year plan under the JioPhone 2021 offer. For this, subscribers will have to shell out Rs 1,499 as a one-time payment and in return, the telecom operator will provide them with the JioPhone device and 12 months of unlimited service which will include unlimited voice calls and 2GB of high-speed data daily for usage.
Additionally, Jio has also announced a plan for existing Jio users. Under this, existing JioPhone users can get the same 2GB daily data and unlimited calls for a year, but at a more affordable price of Rs 749. However, under this third plan, the company will not be bundling a free JioPhone for use as the plan can only be activated on existing JioPhone numbers.
Tags:
Reliance Jio JioPhone 2021 offer JioPhone 2021 offer details JioPhone 2021 specs